Experience the magic of Wai Rua
Where calm water meets ancient forest
A scenic 20 minute drive from Whangarei lies Wai Rua; a hidden oasis of primary forest, protected volcanic rock formations and serene lakeside glades. This special property has been preserved and lovingly cared for by it's current guardians – Elaine and Allan Delaney, who have continued to enhance the natural beauty of Wai Rua. Allan and Elaine's decision to open this unique landscape for events, weddings and retreats has allowed a new generation to appreciate Wai Rua: from ancient forests and winding boardwalks through to the towering volcanic rock formations and boulder fields; the power and spirituality of Wai Rua must be experienced to be understood.
The story of Wai Rua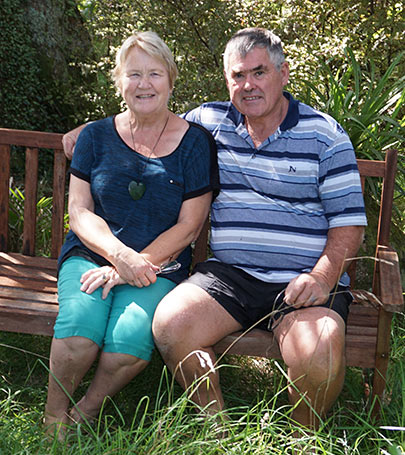 Allan and Elaine purchased Wai Rua in 2015, having been instantly impressed with both the spirituality of the location and the unique diversity in the landscape. Allan is a true-blue kiwi, originally from the Golden Bay area of New Zealand. A practical, 'no.8 wire' man of the land and sea, Allan's passion for the New Zealand natural environment began at a very young age in the North West of the South Island, with hunting, fishing, sailing and farming running in his blood. Elaine, however, has lived in Whangarei/Northland most of her life, and knows the community and the land intimately. Her connection with Wai Rua and the surrounding area is deep and profound, and her desire is simply to bring more people in to share this special place. With a sympathetic eye for preserving Wai Rua's beauty, Elaine and Allan have built upon the existing landscaping to create one of Northland's finest natural retreat locations.
Protected forest walkways
The hand-crafted boardwalks that wind through Wai Rua's forests will lead you to giant mature native trees, past the protected volcanic rock formations and over musical streams and fertile wetlands. Allan and Elaine have worked hard to ensure these pathways remain easily navigable, creating a truly relaxing and peaceful bush walk experience. Immerse yourself in some of Northland's most pristine primary forest, with nothing but birdsong and the faint sounds of running water to break the silence.
Lakeside clearings and grassed areas
Wai Rua offers a unique mix of lakeside serenity and forested wilderness – the lakeside areas offering a calm, easily accessible option ideally suited to wedding receptions and events. The backdrop of native forest creates a memorable atmosphere, while the many outstanding natural formations offer the wedding or event photographer a wide variety of photoshoot locations. Your guests are able to be seated in comfort on our grassed, level clearings beside the lakes, with ample room for a marquee.